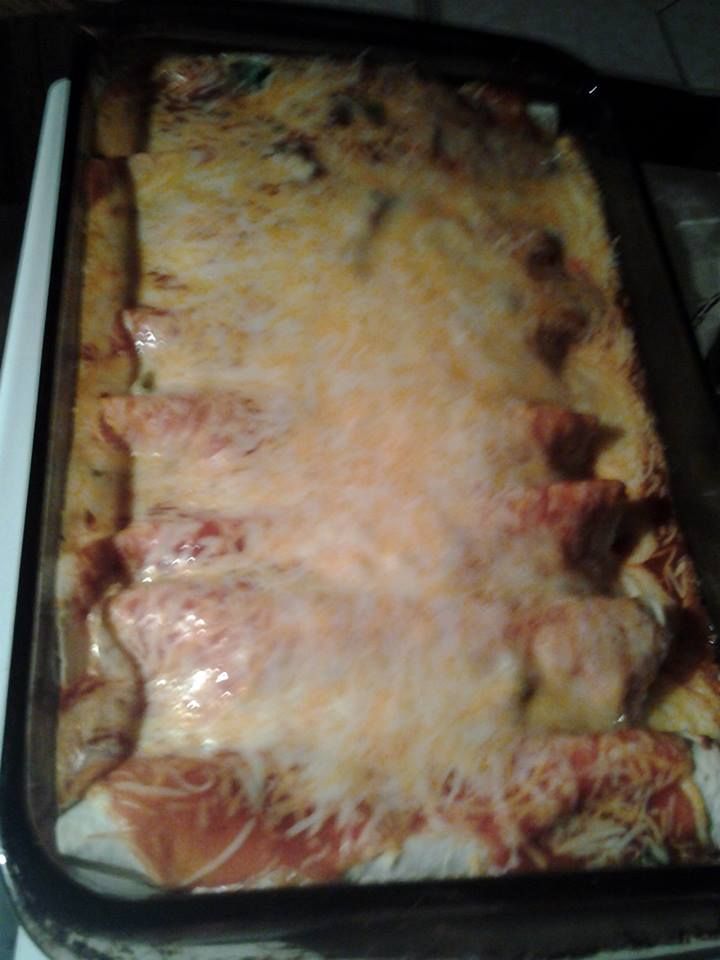 Unlike traditional enchilada recipes, the ones that i'm going to instruct you to make use a flour tortilla instead of corn. These are a favorite in my home, and even my close friends tend to "Drop in" if they catch word that this meal will be on the dinner table that particular evening.
Evolution of the Perfect Enchilada
When I was young and living in Southern California, I had a Hispanic sister-in-law named Rita. One day I asked her if I could have an Enchilada, so long only did she make me one, she also showed me how to do it. Her technique was quite a bit different than the way I do it how. In fact, my version is like a combination of an Enchilada and a wet burrito. One of the differences between how she showed me then, and how I make them now, is that I use a flour tortilla. Rita would place a bit of lard and Enchilada sauce in a frying pan, and then lay a corn tortilla in it. She then placed cheese in the middle, and folder each side of the wrap over it. After flipping it once and adding in some green onions, she would throw it on the plate and ring the dinner bell.
I used this technique for some time, up until I moved to the South-Eastern United States. I made the dish for company, and though I got many positive reviews, the primary complaints were that many in the region were not overly fond of corn tortillas, and most felt that a meal just wasn't a meal without a little meat. So to cater to my house guests, I started using flour tortillas instead of corn, and added ground beef into the mix. As the dish's popularity grew, I would sometimes add re-fried beans as well.
To make a long story short, after this meal became popular among my family and guests, I decided that making them one at a time, which was the way that I was taught, I started cooking several at one time in a casserole dish, inside the oven. In addition to making this faster and easier, it improved the taste and quality ten fold. Another side effect, was that lard was no longer used in a skillet, which eased the cautious of those concerned about high cholesterol. I've made several changes to the recipe over the years, making one improvement after another, until finally today, I decided to share it with the world.
If you've made it this far into this article, then I can only imagine that you're ready to give it a shot, so let's not waste anymore time in getting started.
Here is what you'll need
8 Medium (about 8") size flour tortillas
1 Bundle of green onions.
2 8oz cans of Enchilada Sauce
1 Small can of Chopped Green Chili Peppers (Optional)
1 Pound of Ground beef or Chicken
1 Small can of re-fried beans (Optional)
2 cups of mild cheddar or Mexican Cheese (Shredded)
1 Pack of burrito or enchilada seasoning
Shredded lettuce, chopped tomatoes and sour cream (Optional)
Meat Mixture
Preheat oven to 350 degrees.
Brown/Cook chicken in a medium to large skillet; drain, return to skillet.
Add seasoning according to the instructions on the package, usually by adding it to the meat along with some water.
Chop up the fat round part of the green onions, and add them to the meat mixture. Set the flat portion of the onions aside.
Add the chopped green chili peppers to the meat mixture, and cook for a few minutes up until water has evaporated. Remove from heat.
Pour about ½ can of enchilada sauce to the bottom of a 8×13 casserole dish; spread evenly along the bottom of the dish.
Building the Enchiladas
For each of the 8 Enchiladas, do the following:
Spread one spoonful of re-fried beans into the tortilla.
Add one spoonful of meat mixture.
Wrap each enchilada and lay it in the casserole dish. If you chose the right tortilla, then each should fit well into the dish. The dish should fit 8 of these enchiladas if you pack them tight enough.
Bake and Serve
Once all enchiladas are prepared and placed into the casserole dish, pour the remaining sauce over each of them, try to ensure that each one is submerged into or at least covered with sauce.
Top the enchiladas with any remaining meat mixture.
Spread the shredded cheese evening over the enchiladas, leaving no empty spaces, but be careful not to top higher than the rim of the dish.
Chop up remaining green onions (Flat part) and spread evenly over the cheese. (Not shown in image)
Cover with aluminum foil, and place into the oven for 20 to 25 minutes, until sauce is heated and cheese is melted.
Remove from oven.
Using a spatula, try to divide each enchilada by cutting through the cheese to make for easier serving. Optionally top each enchilada on the plate with lettuce, tomatoes and sour cream. Popular sides to this dish are re-fried beans and/or Spanish rice. I personally prefer El Paso re-fried beans and Zatarain's New Orleans Style Spanish Rice.
Enjoy!