Imagine this-You turn up to your camp site, all miserable and droll. The journey has been uncomfortable, down country lanes and what looks the middle of nowhere. Your partner has dragged you camping and you feel obliged to support them, your not happy about it though. Suddenly you are walked up to a white large tent looking thing. Must be the office you think, great a camping holiday with geeks to top everything else off hey?
You step inside and all of a sudden you walk in to a completely different world. There is a beautiful double bed with arabic styled bed linen, a wood burning stove with cut logs sat waiting to be lit. Ornate rugs and luxurious looking surroundings. Suprise!!! Your partner decided that you were special enough to spoil you with what is the latest craze in the UK, camping in a Yurt. There is no tent to argue over, no furniture or tent to sort out. You can just cozy up in front of the log burning wood stove, with a glass of wine.This is Glamping at its best!!
Maybe you think fat chance, you have kids. Well, Yurts can home more than a couple, but a whole family of around 5-8 people, depending on their size. If you usually pay for a better spec caravan you will find yourself paying no more on one of these Yurts, but the experience will be much much grander. Take a look at this magnificent Yurt.
This is the interior of a lovely UK Yurt-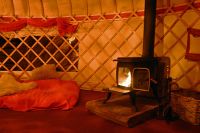 What is a Yurt?
Yurts originate from Central Asia and they are used by Turkic Nomads. The structure is circular and is made from steam bent wood and typically sheep wool for insulation underneath fabric. Of course, the Yurts made for camping purposes here in the UK are made from man made fabrics. Shame really as I feel using sheep hides would have enhanced the experience, yet again, I doubt there is as much need for water proof material in Central Asia, compared to wet and soggy Great Britain.
The heart of a Yurt is a wheel that is made from, you guessed it, steam bent wood. The roof then has wood that look like and therefor are called 'ribs' that come down the roofline, giving the roof structure. The walls are supported by having steam bent wood beams in a lattice formation, meeting the ribs of the roof. Tension bands are used to stop it all from simply moving and collapsing.
I bet after putting one of these Yurts up you would be begging for your tent back. Luckily if you go camping in a luxury Yurt in the UK, the work has already been done for you, the hardest thing you will have to do is put the logs in the wood burning stove.
Where can you find a Yurt to go camping in the UK?
As you can imagine, this trend is so new you are not about to find as many places as you do for caravans, however there are quite a few dotted about around the UK.
There is a fabulous site in Devon devoted to camping in Yurts, that is what they do. They have the Yurts all kitted out with so many luxury items you won't want to go back home. The larger Yurts even have a King size bed in them, I can't even fit one in my bedroom. So if Devon is your place of choice, it would certainly be mine, back to nature and all. YurtCamp Devon is the place you want to go and look at.
There are sites from the North of Scotland, Wales, right down to Devon that house these Yurts, so you really can pick your spot. I am trying to get a weekend away with my husband. We didn't get a chance for a honeymoon all them years ago, one of these with a romantic wood burning stove would be heaven for us.