Find a job with a small business in a big city entails more work than just sending out resumes and wait for someone to call you back. It is best to decide which businesses you desire to work for. Then find out who is the hiring manager for each one so you can make a pitch for a job to him/her. Think of the initial interaction as the beginning of a relationship. Figure a reason to contact the person(s) again in the future in case they don't have a role for you. I haven't and will not use the word "position" in this article in reference to a job because small business owners want employees who can think outside of the box. Moreover, they want people willing to do other tasks to help the business meet its goals. [1 – 2]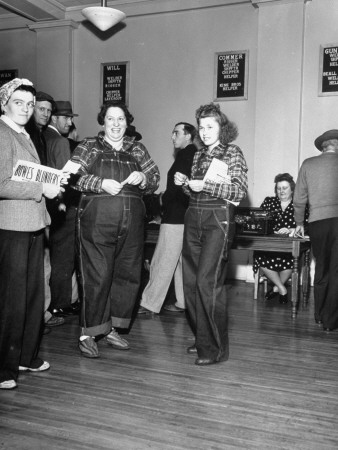 Female union workers waiting to be interviewed
for jobs as welder helpers.
— 12 in. x 16 in. Photographic Print —
I have only lived in a big city during my whole life. I don't know how individuals in rural areas figure out ways to land a job with a small business. If a person don't own a car, then the person may need to walk to go door-to-door and make their pitches to hiring managers. To avoid walking in inclement weather, they need to find alternative ways to communicate to potential employers.
I presume rural areas don't have a plethora of buses to run on routes as part of the public transportation. It is possible that buses only run during the night; thus, making it inconvenient to go to certain locations to look for a job.
If you live in a big city and don't own a car, figure out which buses you won't mind taking and find out the length of time for you to get to your possible destination if you have a job. Then it would be wise to do what I said earlier, decide which small businesses to make pitches to. Most likely people will pick business that aren't far away from the chosen bus routes.
I've left some other important ideas to implement on your job search from an article I found very useful. You can locate it at the URL that is listed as #1 of the references typed at the bottom of this article.
Business Card Template for Artists
by vickiescreations at Zazzle.com
More Tips to Share
Have a great attitude towards everything and everyone.
Businesses could outsource many types of roles. So, have a striking skill to be considered useful.
Look through old job postings. The job may still be vacant. Perhaps it became vacant again for whatever reason. You may not be competing with a plethora of applicants if you do this.
Set goals and continuously stay focus on them so that you will have the knowledge to track down job leads that entails to network with like-minded individuals both offline and online.
Let prospective employers know you're capable of following directions.
[ Did you know that home improvement retail stores such as Home Depot hire seasonal workers for the busy spring season? ]
Conclusion
If you find yourself procrastinating, perhaps it won't hurt for you to know a few ideas on being more productive. You may find it challenging, yet rewarding, to find a job with a small business in a big city.
References:
[1] http://www.cbsnews.com/8301-505143_162-57320089/8-steps-to-getting-hired-by-a-small-business/
[2] http://www.cbsnews.com/8301-505143_162-47745132/how-to-hire-the-best-small-business-employees/?tag=cbsnewsMainColumnArea