'Don't put anything in your ear that's smaller than your elbow.' Doctors have been saying it for years and, yet, the cotton swab or 'Q-tip' can still be found on store shelves across the nation.
Either these dire warnings are falling to deaf–or soon to be deaf–Q-tip filled ears or someone has discovered that these cotton-tipped sticks have a plethora of other applications.
Who knew that a brief Google search would yield a veritable treasure trove of novel uses for the ordinary cotton swab! The lowly Q-tip boasts its own Facebook page, YouTube Channel, and a myriad of blogs dedicated to its celebration. And some of its abilities are quite surprising.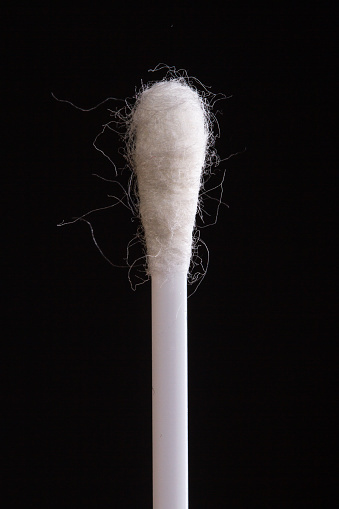 They Make Pretty Flowers
Yes, you read that correctly. The Q-tip is a key ingredient in creating a funky floral piece of home decor befitting even the poshest of abodes. According to 'Anthropologie-Inspired Blooms,' all that is required is a styrofoam ball, Q-tips, food coloring, and the stems from some inexpensive fake flowers.
Simply cut the cotton swabs in half, push them into a styrofoam ball, dip their tips in your favorite shade of food dye, attach a plastic stem, and 'voila'–you have a trendy piece of art.
They Can De-Gunk Tchotchkes
Do you have a collection of intricate trinkets that are impossible to clean? Have your Christmas ornaments transformed into barely recognizable balls of dust bunnies and detritus? Ack. Make It Do.com recommends wetting the end of a Q-tip, squeezing out the excess water, and using it to gently clean the nooks and crannies of these cherished items. Finally, something you can poke at with something smaller than your elbow.
They Can Fix Wayward Makeup
If you have ever tried applying make-up in a moving vehicle, while you're perspiring, or after a few too many Coronas, you likely wound up with less-than-perfect results. Does anyone remember Alice Cooper?
Thankfully, 'The Cotton Swab: A Beautician's Best Friend' reminds the sloppily mascara'd that by dabbing a bit of makeup remover or lotion on a Q-tip, you can erase those mistakes. Bye-bye lipstick bleed. Farewell caked concealer. With Unilever's finest on the job, you can achieve cover girl perfection.
They Like to Play
If you've ever drawn eyes on a Q-tip, you've already become acquainted with their fun side, but did you also know that they love to play? Yes, in a matter of minutes you can transform your cotton swabs from regulation white to colorfully-hued Pick-Up Sticks.
According to The Crafty Crow, you can simply paint 3 Q-tips blue, 8 green, and 14 red, and 'poof', you've got everything you need to play an old-school game of Pick-Up Sticks. You can even decorate the Q-tip box, turning it into a case to hold them.
They Are Great Cat Toys
Does your feline friend boast a bevy of catnip-infused mice, pom-pom balls, and other assorted supposed toys designed for his entertainment? Does he ignore his toys, relegating them to the corners of every room in your house? Well, stop wasting your hard-earned cash on dust collectors for your finicky furred one and, instead, give him a Q-tip. Yes, your cat will enjoy hours of play, batting a cotton swab to and fro. Romeo The Cat, however, does recommend that you only let him play with them under supervision.
Yes, the Q-tip is a truly versatile tool and its applications are as diverse as its design is simple. So reach for Unilever's trademark blue box, fish out a few of these trusted cotton swabs, and let your imagine loose. Who knows what new Q-tip use you will discover.
What surprising way are Q-tips used in your house?