Making Handmade Cat Greeting Cards From Collectible Works of Art
Cat cards have been popular for cat artist Deborah Julian.
She re-imagines her popular cat art prints as greeting cards.
She started with colorful handmade note cards that used her favorite cat models: Handle With Care is a good example. George peaks out of a box he has commandeered in a move, the message for the card already taped to the box. A Lazy Afternoon is another, with Billy sprawled out by a window and soaking up some sun.
These cards sold well at fairs, but then an idea for meshing Deborah's education in art history, experience in the art market and her love for cats led to creating handmade cat art greeting cards that weren't geared to themes but oriented around cats in famous art.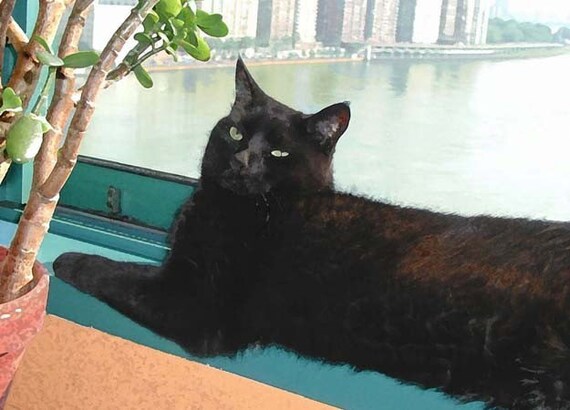 What if, Deborah Julian asked herself, famous artists had my cats?
She'd been forced to get used to the constant interference in her work that cat curiosity brought. What if, for example, Vincent Van Gogh returned home to her three cats after a rugged day of plein air painting in the sun and wind?
A handmade cat art greeting card, Van Gogh's Cats, followed.
Needless to say, the inspiration lit a creative fire:
These led to magnets and even T-shirts and retail products on Zazzle.
And one from Henri Matisse:

La Dance With Cat Shirt by DeborahJulianArt
Join one of the biggest graphic design affiliate programs
Making the big jump from being a creative artist who takes pleasure in her work to being one who also makes her living from it has been a journey for Deborah Julian. Start-ups can be mixed bags of results and so much has to be learned first hand. The best potential fair of the season can be destroyed by rain, and the best opportunity to sell your work ever can come out of the blue.
It's exhausting, rewarding and all stops in-between. The nice thing is the pleasant surprise of seeing handmade cat art note cards being converted by smart customers into framed art.
Check back in six months in see what's happened.
In the meantime, you can find her most current work anytime at Deborah Julian Art with much of her fine art photography discussed and shown at Urban Landscape Photographers: Deborah Julian
I hope you enjoy the discovery.