Ensuring smooth order taking has become a necessity. Companies that cannot afford to set up an in-house order taking branch outsource the services of order taking call centers. In this article we shall learn about the importance of order taking services.
Internet has changed the way businesses are done. It has revolutionized the way service providers and consumers interact. You no longer need to go out in the marketplace to purchase stuff. You can order them online from the vendor's website. Recent time has seen many startups mushrooming for the sole purpose for making consumer products available to the people. They act as virtual marketplaces that sell all sorts of products.
For companies involved in manufacturing or making their products available to the masses, order taking is a crucial business operation. It is important to never miss an order as more orders mean more income. Companies spare no expense in marketing, but when it comes to setting up an efficient and user-friendly order taking service, they fail to realize its importance. It is imperative to take notice of all the incoming calls regarding queries of the product or for the purpose of placing orders. Companies should also take care while answering the calls and processing the order. Because messing up with an order will not only hamper their brand image but will also affect their profits. A customer with a bad purchasing experience is very less likely to come back.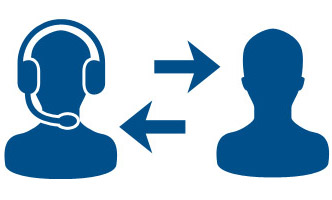 Business having less number of employees, find it difficult to have a dedicated order taking services department. During peak hours, condition is the worst. It becomes a nightmare to handle incoming calls and properly attend each and every customer. No business owner wants to miss a call and no customer wants to listen to the busy-tone while waiting for the call agent to attend him. When such situation arises, productivity is affected, quality of customer service is compromised and reputation of the company is at stake. In order to avoid this, companies usually hire order taking call centers to help them efficiently handle calls and take orders. This further enables the business owner to focus on other areas to grow and develop their business.
It is expected from a good order taking call center to provide tailor made plans to suit the individual requirements of every company. All businesses are unique and demand different approach. By providing customized and smart solutions to man incoming calls, especially during peak hours, it is ensured that no call goes missing and all the incoming callers are patiently dealt with. Order taking call centers hire highly trained and professional tele callers to take orders. They are well trained to curb all the user queries regarding the product for which the order is being placed. They are made familiar with every process involved in the order taking, so as to guide the caller in time of need. Order tracking is one feature businesses provide these days. These tele callers make their services available in case someone is looking to track or cancel their order.
Order taking services usually operate round the clock, 24 hours of the day. This ensures full time call coverage. Call coverages are of many types. The two most commonly used call coverage services are full time service and overflow call management. High volumes of incoming calls can overwhelm even the most efficient order taking call center. To avoid hassle, technical support is also taken. IVRS (Instant Voice Response System) is one such service. It is the most used in banks and at government services. It helps to handle the bulk of incoming calls efficiently by dispatching calls to the tele callers one by one. This way all the calls are attended, and call-bounce ratio is very low. In case the call goes missing, answering machines record the phone number from which the call was made and inform the tele caller about it, so that caller can connect with the customer. It reflects professionalism and helps to build the image of the company. Also, technical intervention makes the process of order placement easy and speedy.
It is necessary to obtain seamless operation while taking orders. Mistakes are not tolerated as they cost valuable business to the company. A company whose priority is smooth order taking services must consider outsourcing it to professional and reputed order taking call center vendors. Once you have availed this service, you don't have to worry about handling the huge volumes of incoming calls as these vendors will do it for you and you will soon realize that it was a wise choice.