It may be August, but cooler weather is approaching fast. Time to start thinking about updating your wardrobe! One really cute yet inexpenive way to do this is with rain boots. Rain boots can add a personal statement to your cool weather ensemble, and for a pretty low price. Here we will be discussing some funky new styles that won't break your wallet.
Lets start with one of my favorites, from a company called Dirty Laundry.
This is the 'Rhane' boot and can be found here on Zappos – http://www.zappos.com/dirty-laundry-rhane-black-white . This cute style is for the girl with a wild side. Reminicent of biker boots, these rain boots will always be fun and are sure to turn lots of heads, even on a cloudy day!
Our next style is brought to you by none other than Target. These are the Merona Zebra Dot Rain Boots. These fun, happy boots sprt lots of dots that are just too cheerful to be ignored! The best part is, they are one of our most affordable pairs of rain boots, clocking in at just $24.99. Word on the street is that they run just a tad large so be aware when ordering. You can purchase these fun rain boots in Target stores or onine here: http://www.target.com/Merona-Zabrina-Dot-Rain-Boots/dp/B0010FE5BE/ref=sc_qi_detaillink
Our next pair of rain boots is awesome because they don't even look like rain boots at all, but they will keep your feet dray and toasty! Are you a country girl at heart? Then these are for you!! Thes black faux Alligator boots are really rubber rain boots!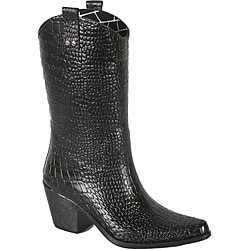 Stylish, and edgy these boots by Beston will let your inner country girl out to play even in the rain! They are priced at a modest $35.50 and can be purchased here http://www.overstock.com/Clothing-Shoes/Beston-Summer-Rio-Womens-Black-Cowboy-Rubber-Rain-Boots/5786637/product.html?IID=prod5786637 .
Our last pair of rain boots aren't really 'affordable', but we loved them SO much, we just had to include them here. They are from designer Kate Spade, and are called the 'Patty.' These boots come in three colors, but we are partial to the cream and black ones.
They are the haute couture of rain boots, and somehow manage to make even rain boots sexy. Our most expensive entry they are priced at $125.00 and can be purchased at Zappos by clicking here: http://www.zappos.com/product/7828830/color/248264 .
No matter what your style, there are many styles of rain boots that can help you feel fun, stylish and yes even sexy even when its raining!