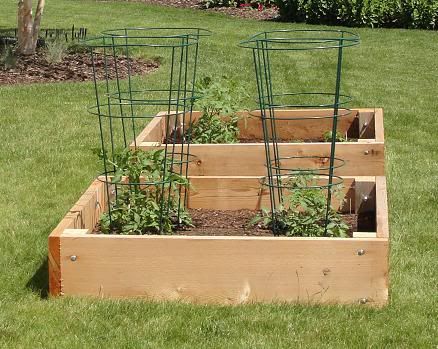 If you want to have an attractive and productive garden in your yard but are looking to avoid the work associated with tilling and excessive weeding, a raised bed garden might be for you.
Raised bed gardens can be purchased or built in all sorts of shapes and sizes to fit your property and your space needs. They also look attractive in your landscape and can fit into your other landscape beds to maintain a lower profile. They are great for growing vegetables.
What can you grow in a small space?
In a simple 4 foot by 4 foot raised be garden you can grow 4 tomato plants or 9 pepper plants, for example. That's a lot of tomatoes and peppers for such a little space. Feeling more creative? How about a salsa garden with 2 tomatoes, a jalapeño, a row or two of onions and a cilantro plant? For the salad lover you could fill a single raised bed garden with varieties of greens, carrots, and radishes. The chef in you might want to build an herb garden for fresh cuttings all season long.
Why not a traditional garden?
The really neat thing about raised bed gardens is that they are versatile. If your property doesn't have a great place for a "real" garden but has a few small spots around the house that get plenty of sun, you can install 3 small raised bed gardens around the house to take advantage of the space you have.
A traditional garden is great but it takes space and the border between the grass and the garden can be unattractive if you live in the city where clean cut lawns are more common. When landscaping with rocks and mulch, a raised bed garden can be placed right in those beds to eliminate trimming altogether. The traditional garden also gets compacted with use and needs to be tilled where your raised bed garden soil will stay loose all season long.
What if I can't get down to garden?
The raised bed garden is a great choice if you can't get down to ground level. You can find raised bed gardens that are built on stands so that you can either stand up or even garden from a wheelchair. Not only that, a rabbit will have a fit trying to eat your salad greens in a raised bed garden 3 feet off the ground.
Should I use a special soil mix?
Ideally, yes. What you want to use for raised bed soil is a mixture of roughly equal parts peat, vermiculite, and compost. You can use your own compost or purchase different kinds from the nursery. This mix will stay soft and retain water nicely for your plants year after year. This is truly a no dig garden.
After years of using this soil mix I can still plant my seedlings without a garden shovel because the soil moves so easily. This is why raised bed gardening is so good for your plants. Since you don't walk on the soil, the soil never gets compacted and the roots find it very easy to grow.
How do I get started?
Order one of many raised bed garden kits online or find a raised bed garden plan to build yourself. Find a location in your yard that gets plenty of sun and install the garden. Fill it with the soil mix indicated above and plant away!