Diamond pieces are very expensive thing and very precious thing that you can have in all your life, and there is a specific category of people in the world own them, it is rare to find Diamond's owners, and maybe they could get it as an inherited thing from their royal families.
Today we are going to show you the most famous, beautiful and expensive diamond pieces in the whole world, nothing can describe how much it is beautiful, precious and you are going to hope to have one of them.
1-The Spirit Of De Grisogono Diamond it is on the top of the list, anyone who has it always get the lucky person title and it is well-known about it that is the largest black diamond, and its owner from a customer of gems market. It was called The Spirit of De Grisogono because De Grisogono is a very famous Swiss jeweler and he was the first one who cut this unique diamond and brought it.
De Grisogono used the Mogul diamond cutting to cut this diamond and it was a great choice to bring it with this perfect looking. Spirit of De Grisogono Diamond weights 587 carats.
2- Hope Diamond very beautiful blue diamond and its price could reach 250 Million Dollars, the one who could bring it was a French dealer his name is Jean Baptiste. And it has a very huge historical value because it was with King Louis XIV the King of France and it was called 'Le Bijou Du Roi' in French and that means the diamond's king. And it weights 112 carats. The mixture between the boron and the crystal give it the perfect looking ever.
If you have the desire to see it you can see it in Smithsonian National Museum of Natural History in Washington, USA.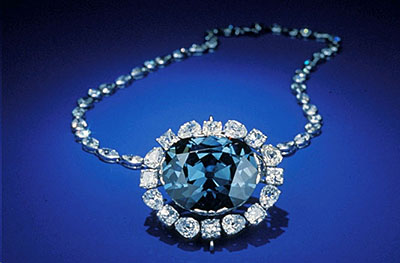 3- Idol's Eye Diamond it was discovered in the middle of the 16th century, but there is unconfirmed information that this diamond has been stolen from the statue's eye (Hindu) in India if you look at it you will feel like you are looking at an eye, not at a diamond.
Many could own this diamond since it has been founded. It was with an unknown person that could buy it in the beginning and then it has been given to Abdul Hamid II the Ottoman Sultan.
Its extreme purity is the clearest thing that you can see although, it has no colors. Worth mentioning that nowadays the owner of it is an unknown person.
It is the best one and defects free, focus looking at it, will be the best thing ever.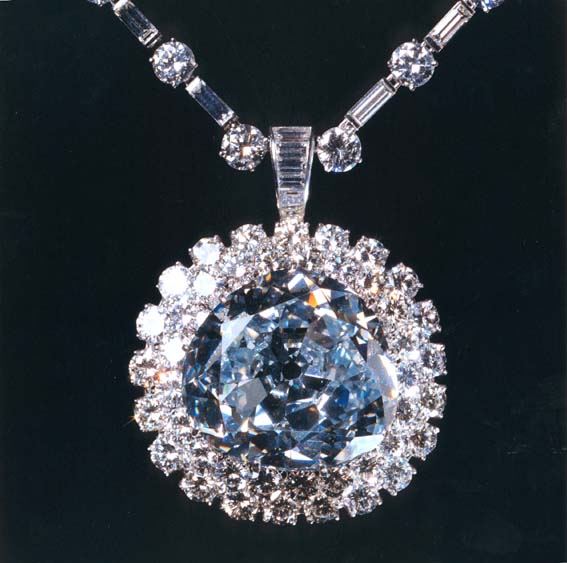 4- Mountain of Light Diamond Or The Koh-i-Noor Diamond (its Indian name) this diamond age is more than two thousand years and it was in England with Queen Victoria in the Nineteenth Century and it weights 106 carats.
Before that it was in India, it was written about it in panorama's memories of the first Indian judge.
Through a mysterious way, Queen Victoria could get it.
Queen Victoria ordered to recycle it and that made it lose 43% of its value.
Nowadays this Diamond with a British royal family in The United Kingdom and in fact it's one of the crown jewels. Till this time India is requesting to get their diamond back but there is no hope.
5- Heart of Eternity Diamond this diamond was found in De Beers Premier Mine North-Africa and in this time this mine has a very great place in producing the blue diamonds as many blue diamond miners could get them from it.
It weights 777 carats when the miners found it, they kept digging because they thought that they will find more diamonds, but there was nothing.
It was a unique one like no other and there is no diamond has been discovered like it until this current time and it is rarely to find the diamond like this one.
The purity of the Blue color gives it a very wonderful shape and being a defects free diamond may catch your eyes when you look at it. Now it is in the famous Smithsonian Museum USA.
6-Golden Jubilee Diamond considered one of the world largest diamond, was discovered in 1985, it weighs 545.67 carats. It has been cut from a huge diamond. This huge diamond weight is 755.5 carats and its main color is Brown. Founded in South -Africa and that is why it was called 'Star of Africa Diamond'.
This diamond was given to Pope John Paul II in order to get the blessing from him.
It was called Golden Jubilee because it was a gift to Thailand King at 1997 in his fiftieth coronation session.
It has the two colors (Yellow – Brown) that make it awesome diamond.
We presented to you the most beautiful diamonds in the world. Having diamonds like these such as having a very valuable treasure you have to keep it as owning it is like owning the world.