When Deborah Julian got her first degree, in photography, becoming a cat artist was not one of her goals. A dog lover, she'd never even shared her home with a cat. Twenty years later, she became one of our most innovative and successful cat artists. Here is how it happened.
A Cat Artist In The Works
Starting her career, Deborah did the work most young photographers do. She accepted assignments for weddings and kids birthdays when she offered, trying to balance creativity and routine.
She was also able to earn assignments for PR agencies for press and publicity photos and did occasional work in advertising. These gave her a powerful work
ethic and an awareness that artistry would always also be a job.
Then, after several years and having opened her own studio to begin practicing fine art photography, her world changed with a move to New York. Suddenly, rather than a sought after young talent with multiple skills, she was small fish in very large pond.
One day, seeing one of her heroes, Elliott Erwitt, bringing his photos to finishing shop in Midtown Manhattan, she was thrill but increasingly aware of how far she had to go.
See more, related pages:
Top Etsy Sellers
Starting With A Bob Ross Paint Set
Cat Greeting Cards for Love & Friendship
Moving Up In Manhattan
A crucial decision in her career came when Deborah decided to go back to college, this time to earn her second degree. This time, art history was her major, and she graduated near the top of her class at Manhattan Marymount, winning multiple awards and recognitions.
Something else happened. Eager to share life with a pet, but living in a community that refused to allow dogs, she finally decided to adopt her first rescue cat. Ironically, she'd gotten familiar with cats and attracted to them during her visits to the local Humane Society where she volunteered as a dog walker.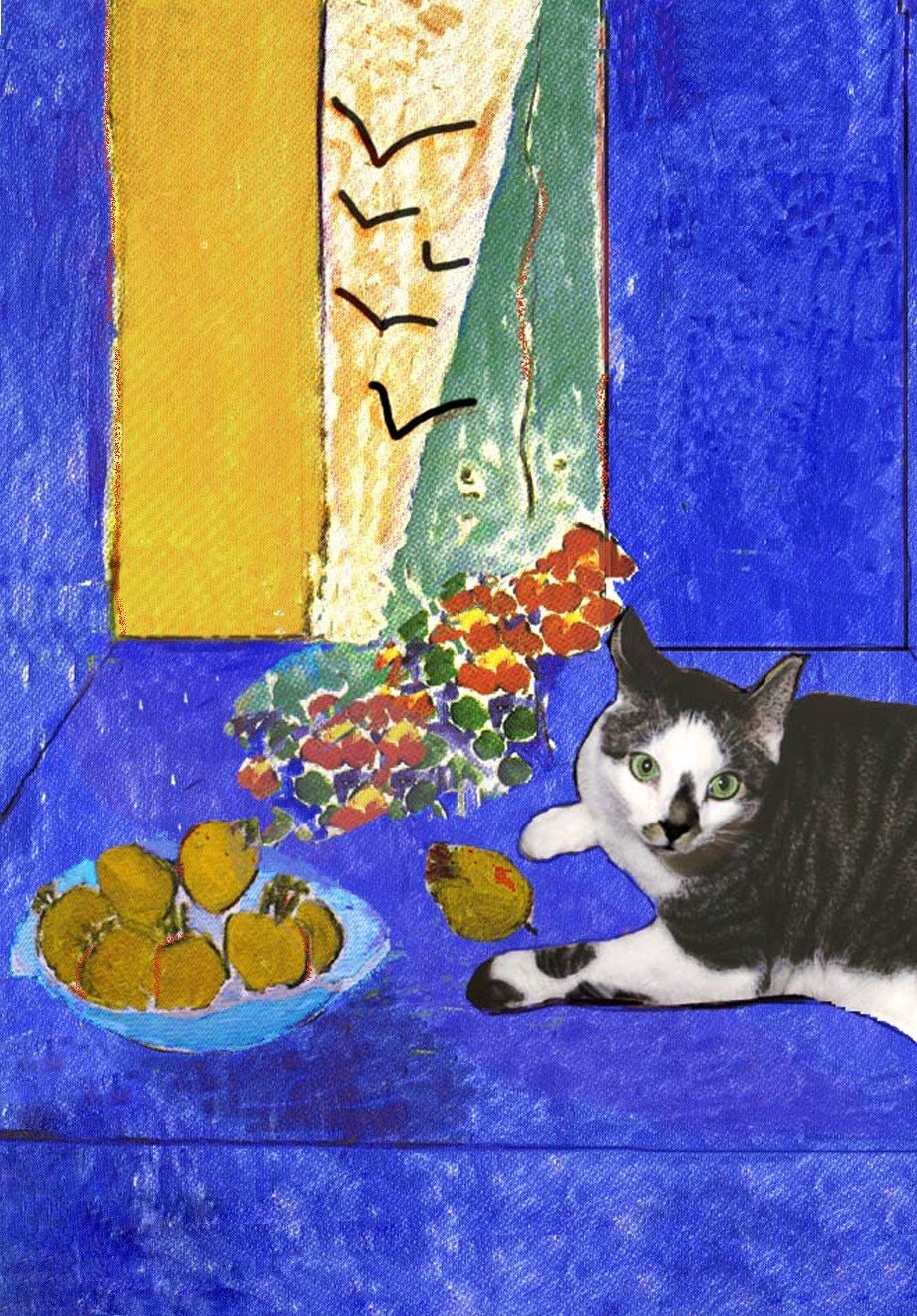 George who fulfilled the prediction that "He'll make you laugh" was a pretty, playful and intelligently curious cat from whom she has never stopped learning. He's likes people intensely but lacks patience with those who think cats are furry little balls, mainly intended for petting.
George was Deborah's sidekick as she completed her college work and her pal when illness or personal challenges disrupted her life. Defying the image of cats as selfish, he sat beside her word processor as she wrote papers and curled on a comforter with her when a cold or flu would sideline her for a day or two.
The story of George's integration into her family, leading to the adoption of two more rescue cats, Billy and Sam, has been told elsewhere. But for this article, the important thing is, he (and, then, Billy and Sam) became her top model as a cat artist and her inspiration in life and art.
A Cat Artist Is Born
Maybe, as a practicing cat artist, Deborah Julian was more discovered (by herself) than born, but the results and her rise has been fast and impressive.
Even while she advanced a parallel career in the Manhattan modern art market, she launched a determined drive to be recognized as an artist herself. This took two tracks. She balances two intertwined practices, one as a fine art cat artist and another as a fine art photographer.
Both are challenging. We can talk more about her stunning and successful fine art work, but the details of her success as a cat artist merits special attention. Doing great work and selling it is like climbing two mountain peaks at the same time.
The artwork itself must be both extraordinary and unique. Cats are incredibly beautiful, entertaining and photogenic. There is no shortage of cat pictures, both professional and amateur, for cat lovers to find and enjoy.
What Deborah knew she must do was come up with original ideas that people would love, put on their own walls and give as gifts. A great idea that worked and has led to her work on being mounted on walls all over the world is Famous Artists' Cats, which combines her appreciation for cats with her enthusiasm for great art.
What she did was take her own struggles with working on materials while her cats roamed the studios and regularly insisted on helping and asked the question, "What if famous artists had my cats?"
George, Billy and Sam have since visited classic paintings by Van Gogh, Matisse, Degas, Cezanne and others. The results, while always beautifully composed, go from mildly humorous to, especially with Van Gogh's Bedroom (With The Artists' Cats Added), laugh out loud funny.
A second track has had more to do with the joy of cats and artistic design. Quotes about cats for posters and prints are great fun and often also insightful. Some of extreme cat lover Mark Twain's quotes adorn kitchen magnets in thousands of homes. Others can be found in pet stores and gift shops around the world.
As a cat artist, Deborah Julian knew she had to be unique in an crowded field of very high quality. She has scored with cute prints, like Love Me, Love My Cat, because she was able to combine a simple cat lover quote with an attractive design.
But her biggest hits so far have been about men and cats, an area of expression she was surprised to find lacking. Her popular design for You Can Tell A Lot About A Man… was matched, by popular demand, by her follow up, A Woman Can Tell A Lot About A Man…
A Cat Artist At The Top
In the last few years, Deborah has been fortunate enough to build a following that buys her cat art regularly at her online shops, and in 2010, she began publicly showing her work at arts and craft fairs near her home in New York City. Images of George, Billy and Sam, her top models in their various poses are shipped as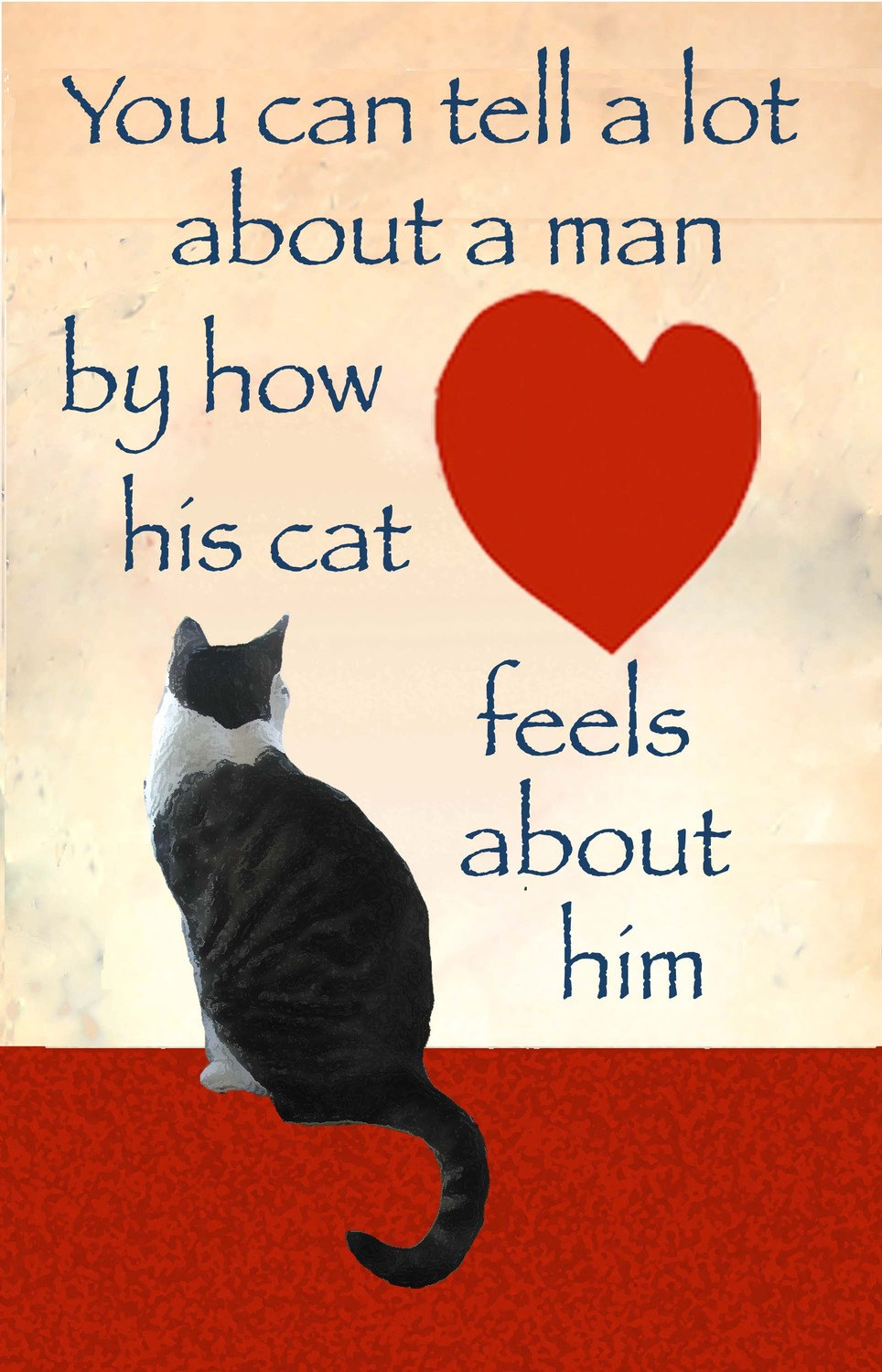 far away as Japan and Australia, complimenting brisk domestic sales.
But what has been most impressive is the acceptance she has seen as she rapidly graduated to higher profile public markets. At the end of 2011, she landed space in about as high a profile market as you can find in New York, The Columbus Circle Holiday Market, a cluster of uniquely creative arts and crafts specialists who take over an entrance to Central Park for a few weeks between Thanksgiving and Christmas.
For a cat artist, the chance to show your cat art prints, greeting cards and cat ornaments first hand to appreciative shoppers is unparalleled. The presentation, so much more immediate than online and so much more open to interaction with buyers, kept her temporary shop busy and exciting, never mind the cold.
2012 is another year, of course, and, for a cat artist and other creative people, a busy to,e coming up with new ideas and creating new products to keep interest high. Deborah Julian is no exception. Near the top now, she knows she has to work had and creatively to stay there.
David Stone, Writer