With the rise of the urban middle class in India, the dynamics of the cities have totally changed. A sizeable chunk of the population now have the resources to start investing in quality real estate, but are reluctant or unable to invest in the truly opulent projects that are coming up. To cater to this vast and growing market, real estate developers have adapted their designs and methods, finding cheaper ways to deliver high quality products tailored to the tastes of this section of the population.
The rise of gated communities and high rise apartments are part of this adaptation, and in order to bring in the aesthetic appeal to these places, we are seeing a shift away from more traditional construction materials to less frequently used economical substitutes, thus appealing to both the senses and the pocket of the customer.
Probably the best example of these new materials is the vitrified tile. A much cheaper alternative to marble and granite, it nevertheless has a visual charm, along with an innate hardness and durability. Its ability to resist liquid spills make it a better alternative to other tiles, and its flexible fabrication process allow it to be tailor made for both load capacity and appearance.
Its specialty is low water retention, making it an ideal decorative choice in bathrooms, pools and kitchens. The non-slip nature and high surface finish of a polished vitrified tile also make it a desirable accessory in several cases. Polished vitrified tiles are widely finding applications all throughout the construction sector in a range of new projects.
Sadly, like all other quality products, India's output is much lower than its voracious demand, and this deficit is negatively impacting the economy. Imported tiles, while of high quality, are needlessly expensive and not something we need to pay for when the same quality and quantity can be produced at home with minimal effort.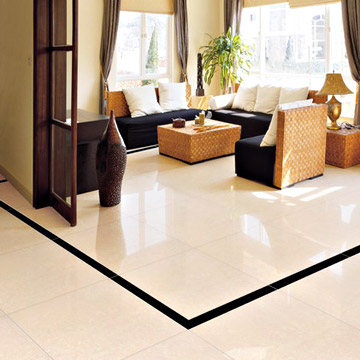 With just a push in the right direction, the indigenous production of all sorts of construction materials including polished vitrified tiles can easily be kick started in India and once the profitability of this enterprise is made clear to all, needless to say the real estate sector will never look back.