Cloud storage is a means of safely storing your personal or business data, files and folders on the web in a secure online location. The main benefit of using cloud storage is that it offers a safe, easy and quick means of backup for your files than conventional file storage methods.
There is a lower risk of losing data with cloud storage as back-up hardware carries the same level of risk as your computer carries. When you use cloud storage, you have the added benefit of being able to access your files and programs from any computer from any part of the world via an internet connection.
If you are presently using services like Google Docs, YouTube, Flickr and Yahoo Mail, then you have already used cloud computing. As mentioned, you can store data online on these sites and access the data from any location. Even the social networking sites you use like Facebook use cloud computing as you can store and share information online.
Ensuring your information stays safe
Like anything else on the internet, it is important that you maintain security while using cloud storage and products. This is because though cloud storage on its own is safe, if your password falls in the wrong hands, the person with access to your password can access, change, delete and even download your stored files.
It is also important that your computer is virus-free to use cloud storage. This is because if you have a PC or laptop that is infected with malware, there is a risk of your cloud logon details being revealed to those who may use your information maliciously. So make sure your anti-malware software and virus scanner are both up-to-date and you regularly use your anti-virus scanner.
Finding the right cloud service provider
Besides all these security checks from your side, you must make sure your cloud service provider offers optimum security to your data. They should have adequate protection from hackers and online threats.
They should also a disaster recovery plan to use if anything does happen to the physical location where their main servers are kept. You know a good provider if they assure you with various secure backups of your files stored in various locations. For cloud storage visit Amcom, who offer best-in-class solutions for many businesses across Australia. Knowing your informatio is in the right hands makes it much easier and safer to do business in the Cloud.
Advantages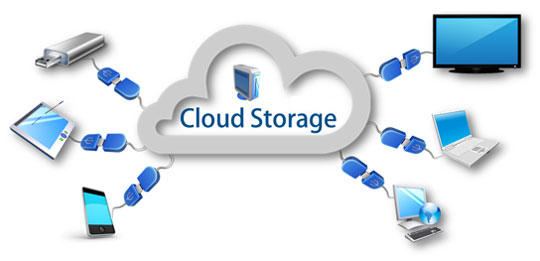 Cloud storage is more flexible to use than saving to a disc or USB stick as you can retrieve your data from anywhere in the world, using any computer. With cloud storage, you don't need any additional storage space at home or in your office. All you need for online backup is an internet connection. There is also no hassles of connecting hard drivers or swapping DVDs to gain access to the information you need. By scheduling automatic and regular updates, you can continuously use your computer while your backup is updated on your behalf. In addition to this, your computer files are regularly scanned for changes and amendments to ensure all the stored data matches the changes made to your hard drive data. In short, everything is where you need it, when you need it.
It's easy to upload and retrieve data in cloud storage. Based on the provider; it may be done through a web-based interface or after downloading a new software application. Looking at the many benefits of cloud storage, and the ease of using it, it's no wonder an increasing number of people use it to store all their important data and files.